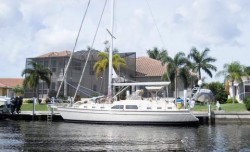 Certainly at the top of the list of considerations for a sailor wanting to buy a sailboat waterfront home is water depth. Sailboat draft is a big consideration both at the dock and even more importantly ingress and egress from the canal system to open water. There is no single source for this information other than this website, which was intended to be totally comprehensive. If you don't see what you are looking for on this page it is likely elsewhere in this website. You will find a lot of important information on individual neighborhoods under Navigation with reference to water depths, canal system layout, canal exit areas and other important considerations. An additional good source of waterfront information can be found on my other website at www.homes-puntagorda.com.
In an effort to provide true depth readings and accurate boat ride times I rode several canal systems and their open water entranceways from the harbor and recorded depths and times. The tide chart for September 15, 2012 is below when this data was taken.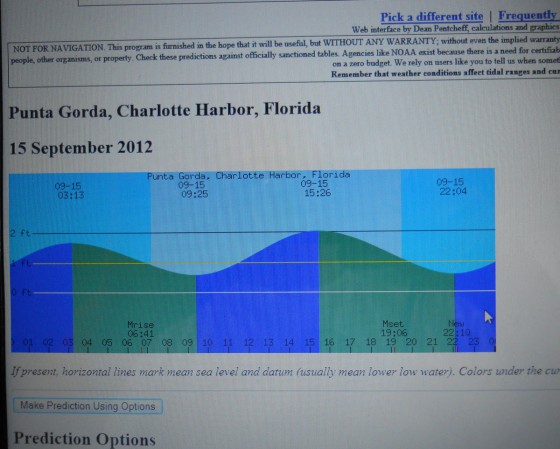 A normal tide swing in our area is around 2 feet so referring to this tide chart has some value in understanding water depths and mean low water. I included time of day on the depth soundings as a depth sounding in the afternoon may have another foot or more of water. Conversely, earlier in the day had lower tides.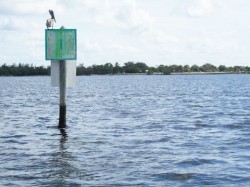 I rode the canals in my 24' center console that draws 12" to 24" depending on my idle speed. A fast idle has the boat digging deeper and generally I was doing a fast idle with respect to not producing too large of a wake. The transducer is located on the bottom of the hull so for each recording I added 1 foot only to be on the conservative side. The day of these readings met with a bit lower than normal low tide as a 10 knot northeast wind had moved a little more water out of the harbor. The northeast breeze stayed through the day but by day's end the tide had come in fully.
You may wish to see Boat Ride Times under another tab on this website that will add more insight to the data below. Call The Captain to get more information about homes on this canal system and others. Chuck can be reached at 941-628-8040.
Canal Depths in Ponce de Leon Channel
The first canal system that depths were recorded was Ponce de Leon Channel as shown below.
Ponce de Leon Channel

Time
Location
Depth
Details
11:22
M1
7.9
Ponce de Leon Park Entrance
11:22
M3
8
11:22
M5
7.1
11:22
M7
7.1
11:25
Ramp
7
Dock and ramp area at park
11:25
M91
6.8
11:25
M11
7.8
11:29
M17
7.2
Entrance To Canals and Rim Canal to South
11:33
11
End of first stretch of canal to open area
11:49
11.2
West Marion Bridge, south of Colony Pt.
12:02
7.4
Corner of Colony Pt, in front of complex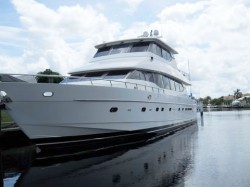 Original Sailboat Section & Isles Yacht Club
All of the canal systems on the Peace River side from the Isles Yacht Club heading west are the deepest canal systems known as the "Original Sailboat Section" or the "Old Sailboat Section."
The canal system that leads to Tarpon Cove is very popular with the sailor that has a deeper draft sailboat and I chose to travel this canal to take soundings along the way. In general, this canal had depths of 7 feet or more with 9 feet at its entrance at day Marker 7. These recordings were at 12:00 noon where we were well into mid tide.
There is a monster sized yacht that is moored in this canal You can bet this yacht draws some serious water.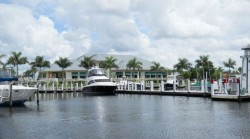 The entrance to the Isles Yacht Club canal system is one of the most important as it feeds many canal system with more homes than any other canal system in the original sailboat section.
The outer harbor entrance is well marked with 5 sets of day markers leading the way into the canal beginning. Marker 1 denoting the outer entrance marker read 7.3 feet at 12:27 at a past middle high tide phase.
Most depths were 7 feet or more into the first part of the canal and then bearing into the first canal on the left which leads to the PUNTA GORDA ISLES YACHT CLUB. The yacht club at a similar or deeper water depth depending on location with 10 feet at the fuel dock.

Burnt Store Isles & Alligator Creek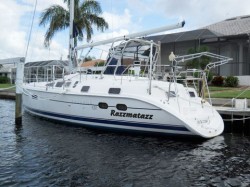 Another popular neighborhood in Punta Gorda is Burnt Store Isles. This is a sailor's dream area with plenty of large sailboats, cruisers and trawlers.
Generally speaking Alligator Creek is the limiting factor for the sailor as this is where the shallowest waters will be encountered.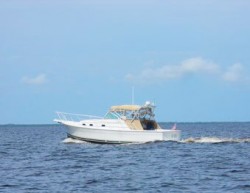 The canals themselves are quite deep with 10-20 feet common. Alligator Creek is quite beautiful and a pleasure, with a well marked channel. There is a branch off of the creek that feeds Burnt Store Isles via a lock channel. The lock is no longer active and easily navigated.
The water depth soundings for Alligator Creek starts near the entrance to the creek at the No Wake Marker 20 where boats must come off plane. A well marked channel will take you the short distance out into the harbor from there when heading out in the westerly direction.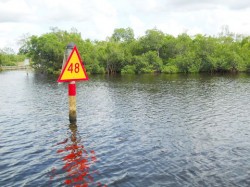 Heading east on the creek after M20 you will pass a marina, boat rack storage, restaurant and then the entrance to Burnt Store Isles as shown below.
Depths and times are recorded below. Call The Captain to get more information about homes on this river and canal system and others. Chuck can be reached at 941-628-8040.
| | |
| --- | --- |
| Riviera Do It Yourself Marina | Gator Marine |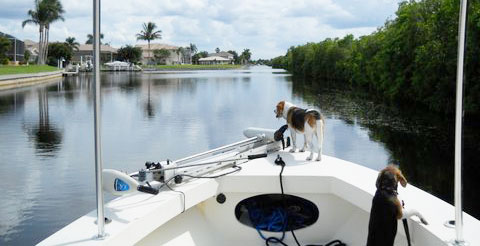 Burnt Store Isles & Alligator Creek

Time
Location
Depth
Details
3:20
M20
8
Alligator Creek off plane, slow zone marker
3:20
M23
6
3:20
M24
6.1
3:26
M24A
7.5
RIVIERA MARINA
3:26
M26
8
Canal End
3:26
M28
7
RIVIERA RESTAURANT
3:30
M30
7
3:30
M33
7.2
3:35
M34A
7
3:35
M40
6.7
3:36
M42
7.1
3:37
M48
7.5
LOCK ENTRANCE, M20-M28 APPX 17 MINS.
3:44
ZAFRA
9.7
Where end of Zafra Ct. meets Rim Canal
3:52
ELISA
9.1
Where Elisa Ct. Meets Rim Canal

Port Charlotte
Port Charlotte offers a remarkable number of sailboat waterfront homes. Knowledge of the canals is imperative when making a home purchase decision in Port Charlotte.
Many listings claim sailboat water but there is hardly enough water to support the depth of a sailboat. The MLS only requires that there are No Bridges in order to define a waterfront home as Sailboat water. There is a lot to know in Port Charlotte, but there are plenty of great canals with good water depth for your sailing craft. The "Original Sailboat" section comprises canals off of Edgewater that run north to south and are short in length.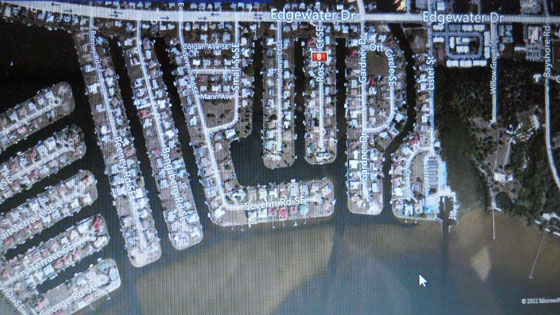 These canals boast the deepest waters and were dredged to a depth of 5 feet mean low water several years ago. I checked one canal system and two open harbor marked entranceways. The soundings below were taken at a later tide phase, a couple of hours before high tide. Refer to the tide chart on this page. There are plenty of other good canal systems but most will be not quite as deep and some with some serious shallow spots. Call The Captain to get more information about homes on any canal system in Port Charlotte. Chuck can be reached at 941-628-8040. Generally, speaking the canals in Port Charlotte have less depth than Punta Gorda.
Depth soundings are shown below.
Port Charlotte Original Sailboat Section

Time
Location
Depth
Details
12:53
M1
6
Open Water Entrance to Roselle Ct Canal
12:53
M3
6
12:53
M5
5.7
12:53
M7
5.8
Entrance to canal, 6-7 ft in canal, in general
1:00
End
5.8
Canal End
Note: Outer Entrance to Edgewater Lake has comparable depths