Part of any boat ride on Charlotte Harbor involves encounters with wildlife.  Charlotte Harbor is an aquatic oasis for countless sea creatures, fish and birds.  On any day of the year you can expect to see dolphins, the "Flipper" kind of dolphins.  There is a huge resident population and they love to follow boats and hang around fisherman occasionally snatching away their catch when released.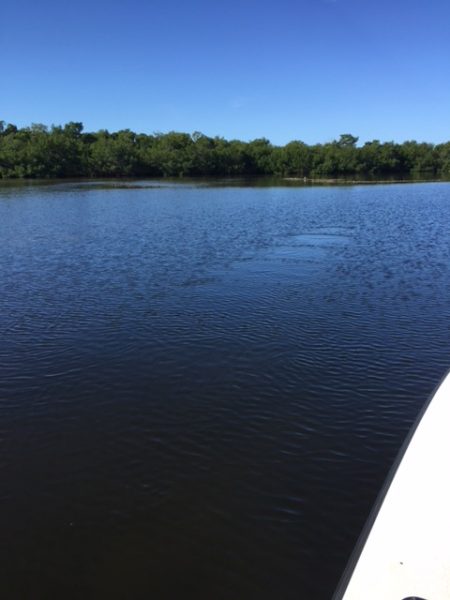 Manatees are also a common sighting.  They are very boat friendly and often curious about your presence.  One way to spot a manatee is to look for a slick spot on the water which almost always is observed in the shallows of 6 feet or less.  The photo shows you what it looks like.  The slick travels with the manatee as it flips its tail it creates a series of circle patterns that smooths out the water behind it.  Its basically a Manatee Wake!  If you approach quietly and perhaps with a trolling motor the manatee will often come up to the side of your boat and stick its head out.
If you see them at your dock, they will sometimes come by for a drink of fresh water, literally!  Put the hose in the water and they will come up and suck on it.  I have seen them fed lettuce and greens in the Florida Keys but of course, that is actually illegal to do.
So, when you travel around the harbor keep your eye out for a moving slick spot on the water.  Manatees are very commonly found in the back waters of Burnt Store Marina.  This is a very reliable location in the winter.  In front of the east or west side of the harbors right along the sandbar is a normal hangout especially in the spring.
We love seeing manatees any time of year and always are careful to avoid a collision with them.  They are not very wary of boaters on Charlotte Harbor and often you will see gashes on them where a propeller struck them.
For fisherman, Manatees attract a fish known as a Cobia.  Cobia normally range from 2 to 4 feet in length and are one of the best eating fishing in the ocean.  Cobia follow the manatees in the shallows because the manatee disturbs the bottom as they move along causing shrimp, crabs and fish to jump out of their wake and the cobia is right there following.